A Conversation with Bob Chapek, Indiana Univ. B.S. '81, CEO, The Disney Company
From Bloomington to Disneyland: Join us on Friday, February 19, 2021 for a live interview with alumnus and Disney CEO Bob Chapek. All welcome.
A 1981 graduate of IU, Chapek will discuss his Northwest Indiana roots, his path to leading one of the world's largest entertainment companies, and an array of other topics during this hour-long interview. The talk will be mo

derated by fellow IU alumnus Douglas Freeland and will offer an opportunity for audience questions.
***Speakers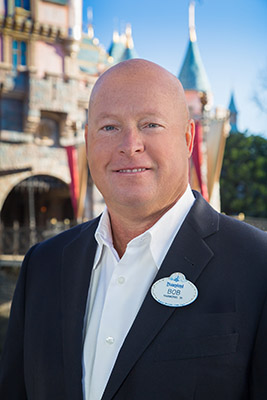 Bob Chapek, B.S. '81, Chief Executive Officer @The Walt Disney Company

Bob Chapek is chief executive officer of The Walt Disney Company, one of the world's largest media and entertainment companies and home to some of the most respected and beloved brands around the globe, including Disney, Pixar, Marvel, Star Wars, ESPN, and National Geographic. Chapek assumed the role of CEO on February 25, 2020 and reports to the Company's executive chairman, Robert A. Iger, and the board of directors. Chapek's nearly three decades at Disney have been marked by growth and transformation. A visionary leader, he has championed using creativity and cutting-edge technology to drive expansion and improve the guest and consumer experience, developed and successfully implemented groundbreaking business

models, and identified new revenue streams to achieve business objectives and sustain long-term growth.

Douglas Freeland, B.A. '80, Founder/Publisher @The Weekly Opine

Douglas Freeland's professional career began in Chicago at advertising agenci

e

s Foote, Cone & Belding and J. Walter Thompson. In 1990, he joined Quaker Oats Company. In 1995, Freeland enlisted at McDonald's USA, where he retired in 2016. At McDonal




d's, Freeland led the resurrection of the world-renowned "Monopoly at McDonald's" promotion and spearheaded the company's sponsorship of Chip Ganassi Racing. As executive director,

Freeland led a record-setting resurgence of the McDonald's All American High School Basketball Games. Freeland executive produced "McDonald's Live," an award-winning, emerging artist concert series. Freeland served on the Chicago Sports Commission and currently is a member of the Indiana University College of Arts and Sciences' Executive Dean's Advisory Board. In 2017, Freeland launched The Weekly Opine, a blog offering commentary on politics, sports, and current events. A highlight was interviewing former Indiana U.S. Representative Lee Hamilton last fall.
When: Tuesday, February 23, 2021 (from 7:00-8:30 pm)
Where: Online:
***
Click here to buy tickets!!!

(Or Register FREE, whether or not you're a Member)(Confirming email will contain the URL for the Online session)
REGISTER for THIS EVENT (Free for All!)
MagnetWidget::Event Dashboard