Join the Embassy Series for a Concert & Reception at Embassy of the Grand Duchy of Luxembourg
WHITE CHRISTMAS (1941- 2021)- A celebration of the life and music of Irving Berlin
EMBASSY OF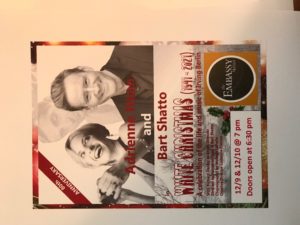 THE GRAND DUCHY OF LUXEMBOURG
2200 MASSACHUSETTS AVENUE, NW (at Florida Ave., NW

MUSIC, with GOURMET DINNER TO FOLLOW CONCERT

Mozart: ADRIENNE HAAN AND BART SHATTO (VOCAL PERFORMERS)

Thursday, December 9, 2021 and Friday, December 10, 2021 at 7PM

We are proud to present these very special singers and celebrate Christmas with glorious music and gourmet food. The pandemic has caused a halt to these much-awaited concerts and space is limited. All CDC protocols will be observed..

TICKETS:$200-CONCERT & PRE-CONCERT RECEPTION AND POST-CONCERT GOURMET RECEPTION – VALET PARKING
Wharton Club Members & Guests:

Register, for Concert & Buffet Reception with the artists featuring Buffet & Beverages
When:
7:00PM - 9:30PM Thu 9 Dec 2021, Eastern timezone

Where:
Embassy of the Grand Duchy of Luxembourg
2200 Massachusetts Avenue, NW
Washington, DC 20008 USA
[ Get Directions ]
Look Who's Coming:
Dina Rady
George Washington Univ.
Monique Lass
Dina Rady's Guest
... a total of 3 guests.
Note: to opt out from this list please sign in, go to My Account and change your preferences under My RSVPs.