Postponed: Headliners Luncheon with Stacey Cunningham, President of NYSE
Wharton Club members & guests are invited to Luncheon at National Press Club with America's NYSE Group President Stacey Cunningham - New date to be announced when rescheduled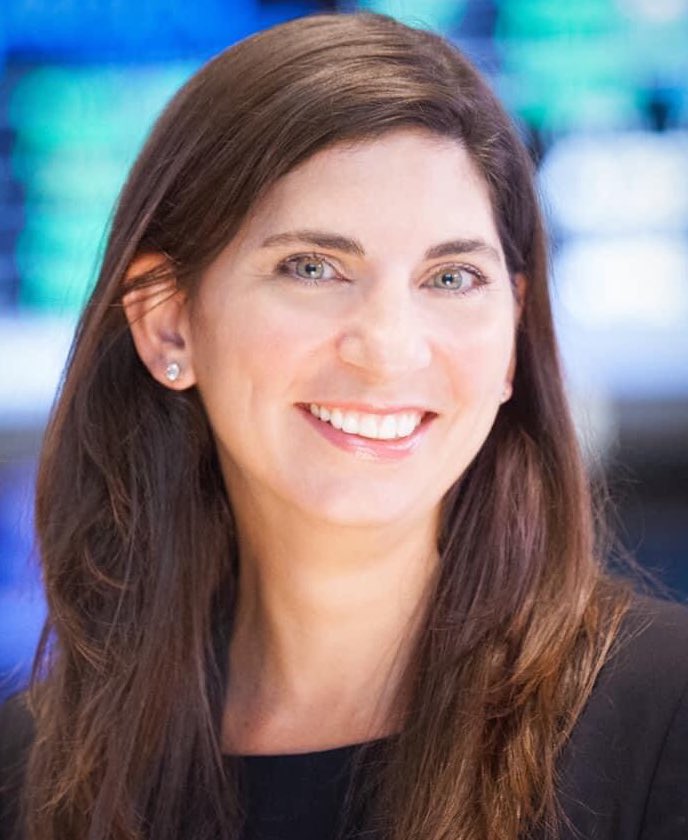 New York Stock Exchange President Stacey Cunningham will speak at a National Press Club in-person Headliners Luncheon on Wednesday, Oct. 6. - POSTPONED
Cunningham is president of the NYSE Group, which includes the New York Stock Exchange, the world's largest equity exchange. She is the 67th president and the first woman to lead the exchange in its 229-year history.
Cunningham oversees an organization that is home to 2,200 of the world's largest companies. A Lehigh graduate with a degree in industrial engineering Cunningham began her career as a trader on the NYSE Trading Floor and held several senior positions. As the NYSE's chief operating officer, she led the development of the world's most sophisticated exchange technology platform.
Schedule:
Lunch will be served at 12:30 p.m.

Remarks begin at 1 p.m., followed by a question-and-answer session ending at 2 p.m.

Tickets cost $45/person for all Wharton Club Member & guest tickets - MORE INFO BELOW
What To Expect at the National Press Club re COVID:
All members and visitors must show proof of vaccination or a recent negative COVID test upon entry. A photo of your vaccination card is acceptable.

We suggest you arrive early to allow extra time for processing. Please bring your printed ticket with the QR Code (We'll send it to you before the event; your name will also be on the list we provide for the Press Club.)

We have implemented additional cleaning processes throughout the day, including enhanced janitorial cleaning of our lavatories, doorknobs, handrails, elevator buttons and other frequently touched surfaces multiple times each day with a multi-surface disinfectant cleaner from the EPA's List N Disinfectants for Use Against SARS-CoV-2. We are also conducting sterilization cleanings of the entire facility on a regular basis.

You will find multiple touchless hand sanitizer dispensers throughout the Club including in the reception lobby, main lobby, hallways and common areas. All shared equipment such as podiums, microphones and other A/V resources are sanitized before and after each event use. Instructive signage is displayed throughout the Club reminding members and staff how to dispose of masks and gloves and the importance of proper handwashing and social distancing.

Non-vaccinated members and guests must wear a mask during for the duration of their visit, except when eating or drinking. All visitors will be appropriately screened for COVID-19 symptoms.

When you arrive at the facility you should expect to have your temperature checked. This check will happen BEFORE you are admitted into the Club. No one with a fever or symptoms of COVID-19 will be permitted to enter. Building HVAC systems will be flushed with outside air on a regular basis.


Click here to reserve your seat(s) for the luncheon at 45/person inclusive: lunch, networking, program.
President's Club & Lifetime Members: Yourself and up to 3 guests at this 45/per person rate
Other Wharton DC Members: Yourself only at this rate (glad to discuss upgrading to President's Club or Lifetime if you like; just call us at 301-365-8999.)
When:
12:30PM - 2:00PM Wed 6 Oct 2021, Eastern timezone

Where:
The National Press Club, 13th Floor
529 - 14th Street, NW
Washington, DC 20045 USA
[ Get Directions ]
Look Who's Coming:
Justine Schaffner
Campus Consulting
Brock Schaffner
Maya Joelson
Meta Point Advisors
Monique Lass
Eliot Shatzman
Wells Fargo Advisors
... a total of 5 guests.
Note: to opt out from this list please sign in, go to My Account and change your preferences under My RSVPs.
Click here to reserve your seat(s)