Savor the Michelin-honored cuisine of the Park Hyatt's Blue Duck Tavern on December 10 at the 50th Joseph Wharton Award Gala!
This is the menu for the

Golden Anniversary

of the Joseph Wharton Award Dinner this year. But don't just read this - register (if you haven't already) so that you can enjoy their fine cuisine, with honorees and guests to match.
Please note any non-standard dietary preference on your online registration.
About the renowned Blue Duck Tavern:
The Blue Duck team led by renowned Chef de Cuisine, Tomas Ortiz and Pastry Chef Colleen Murphy, will create our dinner in the same Michelin-starred kitchen used for all meals at the Park Hyatt, whether for Gala Dinners, such as ours, or fine dining in the restaurant itself. Their team created the fabulous selections on this year's Gala menu.
The Blue Duck Tavern has received rave reviews underlining its theme of "serving creative American cuisine from the region's best seasonal Best Purveyors.. These are a few of many "tastes" of what awaits you - just a sample of many positive reviews and awards - how apt for an award gala - since the restaurant opened, and more recent ones have simply confirmed the earlier praise:
Here is this year's menu, with four delicious courses

With vegan, vegetarian, kosher, non-seafood and gluten-free options available as needed; please indicate in response to questions when you register.

Click here to reserve your place(s

)

Also indicate whether you prefer the fresh chicken or fish entrée; both are delicious - or make another choice, such as vegan or vegetarian, if that's what you desire:
• Starter
Roasted Earth & Eats Farm Root Vegetable Salad, Beet Purée, Goat Cheese,
Baby Sorrel, Candied Pecans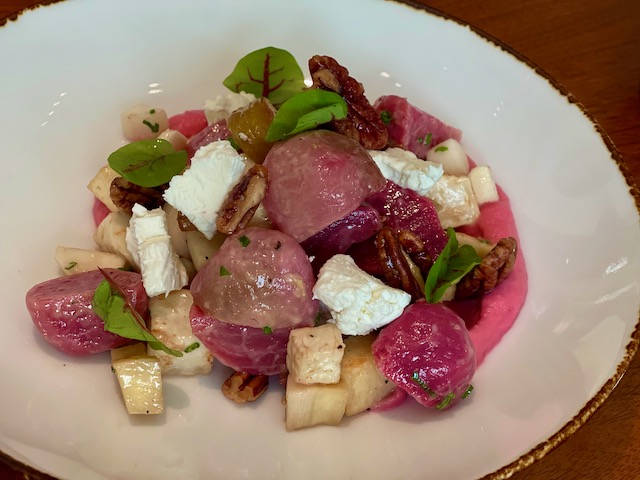 &. &. &. &. &
• Soup
Roasted Squash Soup, Spiced Pepitas, Arugula Pesto, Micro Arugula
&. &. &. &. &

• Entrée - Choice of One (Please indicate when you reserve):
Pan-Seared Free Range Organic Chicken Breast, Pomme Purée, Roasted Squash, Brussels Sprouts,
Rosemary Jus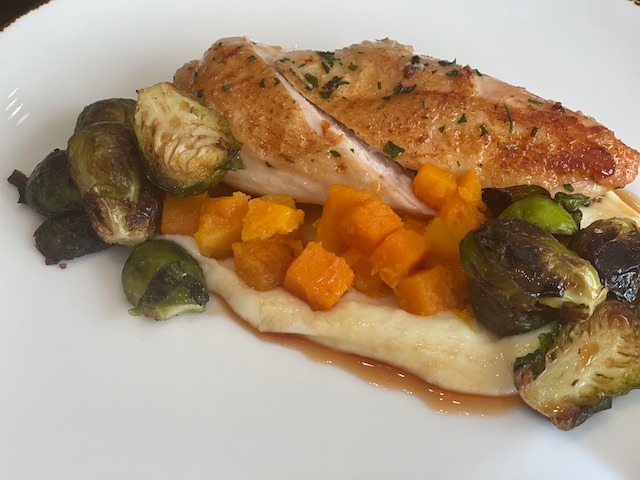 or
Organic Striped Bass, Roasted Celery Root Purée, Parsnips, Carrots,
Carrot Top Pistou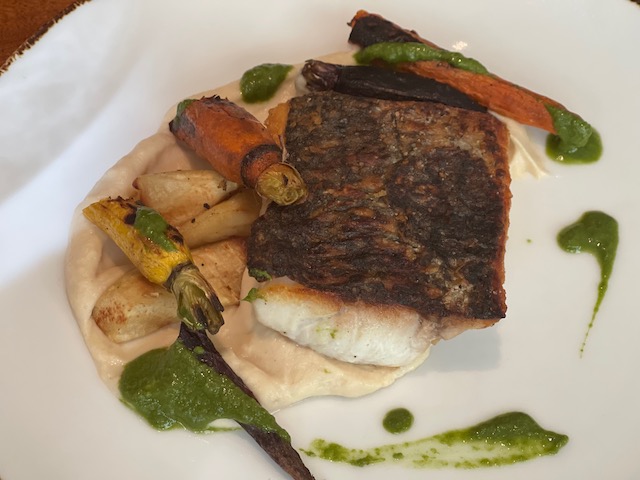 &. &. &. &. &
Vegetarian/Vegan Option:
Squash Risotto with Arugula Pesto & Parmesan
• Dessert:
Valrhona Flourless Chocolate Cake with Fresh Raspberries
Plura Region of Northern Peru
&. &. &. &. &
• Beverages:
Compass Regular and Decaffeinated Coffee, Cellar Teas
&. &. &. &. &
• Wines with Dinner:
Hayes Ranch Chardonnay, California
Le Charmel Pinot Noir, France
Important: When you register, please respond to the survey questions so that we can respond to your dietary preferences and other needs. This must be done in advance, so that we can serve your own and your guests' dietary needs. Thank you.