Meet Elizabeth Fitzsimmons, US Department of State, Nominee for Ambassador to Togo, will discuss "US Diplomacy on the African Continent: Why Africa Matters" 12/21
Wharton Club of DC Members invited to this Special BCC Rotary Club Event. All Members & Guests Welcome.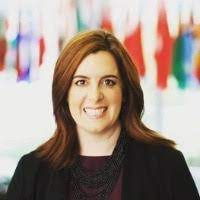 Elizabeth Fitzsimmons, a career member of the Senior Foreign Service, class of Minister Counselor, was the Acting Principal Deputy Assistant Secretary for the Bureau of African Affairs. Since October 1, 2018 she has served as Deputy Assistant Secretary of State for Central Africa and Public Diplomacy. She was previously the Acting Deputy Spokesperson for the Department from March to August 2018. Prior assignments include Deputy Executive Secretary to Secretaries Kerry and Tillerson from May 2016 to October 2017, Senior Advisor at the Foreign Service Institute from October 2017 to March 2018, and Deputy Assistant Secretary for Public Diplomacy in the Bureau of South and Central Asian Affairs and the Office of the Special Representative for Afghanistan and Pakistan from August 2015 until May 2016. She joined the Department in 1995, and at the time of her swearing in was the youngest member of the Foreign Service.
She has served overseas in Taiwan, Hong Kong, Cambodia, India, and Bulgaria. Domestically, she has worked in the State Department Operations Center as a Senior Watch Officer, and as Deputy Director of the State Department's Executive Secretariat.

Elizabeth holds a BA from the University of Virginia in East Asian studies and a certificate from the International Division at Waseda University in Tokyo. She speaks French, Mandarin Chinese, and Bulgarian. In 2009, she was named a Fellow by the International Women's Forum, one of only 25 women in the world to be so honored.
This meeting is in-person at Glen Echo Park on the second floor of the Arcade (Popcorn) Building.

Park at the main visitor parking lot located on Oxford Road just off MacArthur Boulevard (GPS: 5801 Oxford Road, Glen Echo, MD 20812)

Please allow at least 5 minutes to walk from the parking lot. Follow the footbridge across the Minnehaha Creek to enter the park. The arcade building is across from the carousel.

Doors Open at Noon, Call to Order at 12:15pm

RSVP by Thursday, December 16th at 12pm for a catered meal

https://docs.google.com/forms/d/e/1FAIpQLSfpWlfoMPWLBwiPV4ZEMcZuKvHB_potmpamQBceFIw0RXxmSA/viewform

If you miss the catering deadline, you may still bring your own lunch (or not) and attend the meeting for free if you're a Wharton DC Member.
Members:

President's Club & Lifetime: For you and up to three guests @ 29/person, including lunch

Other Members: For you @29 for lunch
When:
12:00PM - 1:30PM Tue 21 Dec 2021, Eastern timezone

Where:
Glen Echo Park
7300 Macarthur Blvd Popcorn Building / 2d Floor
Glen Echo, MD 20812 USA
[ Get Directions ]
Look Who's Coming:
Alan Schlaifer
Guest of Alan Schlaifer
Guest of Alan Schlaifer
... a total of 3 guests.
Note: to opt out from this list please sign in, go to My Account and change your preferences under My RSVPs.