Meet Larry Heilman, A Research Associate in Anthropology will discuss "Mexico: Our Most Important Neighbor? Our Biggest Problem?" 1/11
Wharton Club of DC Members invited to this Special BCC Rotary Club Event. All Members & Guests Welcome.

This week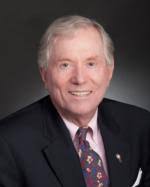 , Larry Heilman will discuss "Mexico: Our Most Important Neighbor? Our Biggest Problem?" Currently, Larry Heilman is a Research Associate in the Anthropology
Department of the Smithsonian's Natural History Museum. Larry served twenty years with the United States Agency for International Development and rose to the rank of Senior
Foreign Service Officer. His posts were Bolivia, Nepal, Bangladesh, Guatemala, and
Burkina Faso. He was a Foreign Area Analyst with the CIA and served 20 years in the
United States Marine Corps Reserve with short periods of service in Bolivia, Bangladesh, and Okinawa. In 2017, Larry authored "USAID in Bolivia: Partner or Patrón." Larry was
awarded the USAID Alumnus of the Year in 2019 for his sustained efforts in the
development field both internationally and locally.
Larry studied at the National University of Mexico and the University of Yucatan. He has worked as an aspiring archaeologist in the Yucatan; explored the territory of Quintana Rho on foot and by boat in search of pre-Columbian sites; analyzed university student political activities in Central Mexico in the 1960s and administered development assistance programs in Mexico in the 1970's. In the 1990's, he facilitated programs designed to strengthen the democratic process in Mexico.
Members:

President's Club & Lifetime: For you and up to three guests @ 29/person, including lunch

Other Members: For you @29 for lunch
When:
12:30PM - 1:15PM Tue 11 Jan 2022, Eastern timezone

Virtual Event Instructions:
Your confirming email will contain the URL where you can register for program access.