Join Active Minds 2022 Virtual National Conference: Amplifying Mental Health in our Culture on February 10, 2022.
Did you hear? The Active Minds 2022 National Conference is NOW VIRTUAL! Our top priority is your health and safety, and in consideration of the impacts of the Omicron variant, we will not be hosting an in-person Conference.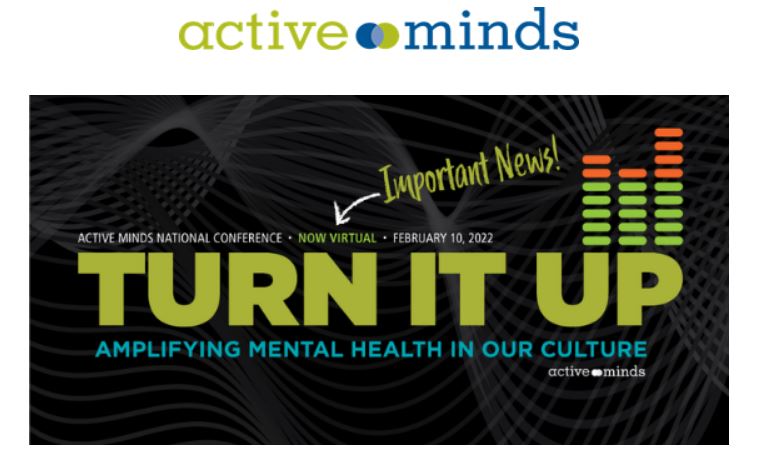 Instead, please join us online Thursday, Feb. 10 from 2-5 PM EST.
The virtual conference will bring breaking new content on mental health from experts across the nation with sessions like:
Using Data to Improve Mental Health​​​​
Words Matter: Responding to Mental Health Microaggressions
"Nothing About Us Without Us:" Advocating for Mental Health Policy Change
...and more!
Your $35 virtual Conference ticket includes access to the full live event, digital swag, PLUS additional on-demand recorded sessions only available to Conference attendees.
We hope to see you there!
If you are registering for more than one person, we recommend you review the questions in advance to ensure that you have all of the information necessary to successfully register. If you are registering more than four attendees, please contact Emelyne Ndikumasabo at emelyne@activeminds.org to process the group registration.
Please use Chrome, Firefox or Safari browsers to register (Do NOT USE Internet Explorer)
When:
2:15PM - 5:00PM Thu 10 Feb 2022, Eastern timezone

Virtual Event Instructions:
Your confirming email will contain the URL where you can register for program access.