MCPL: Contemporary Conversations with Elizabeth Kolbert - Virtual 3/5
Our Impact on Climate Change. Join us for a conversation about the topic of climate change with Pulitzer prize-winning science writer and Journalist, Elizabeth Kolbert.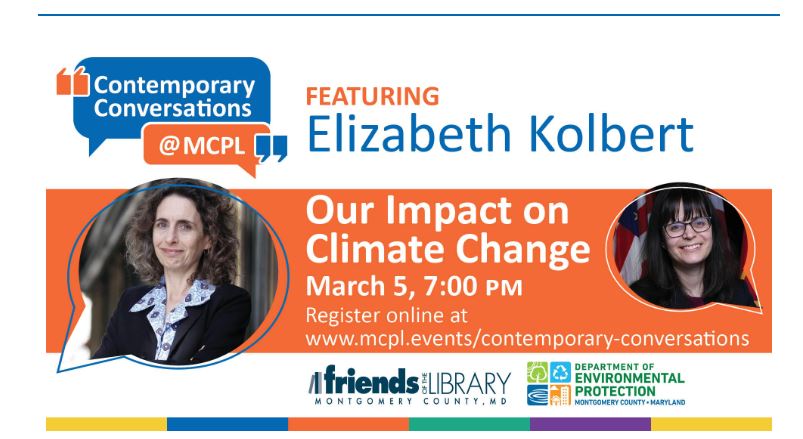 Elizabeth Kolbert, staff writer for The New Yorker and author of the Pulitzer Prize-winning The Sixth Extinction, will participate in a moderated conversation about the topic of climate change and how we can make impacts through our habits and decisions.
The conversation will be moderated by Adriana Hochberg, Climate Change Officer for Montgomery County and Acting Director for the Department of Environmental Protection.
Registration is required to attend the virtual program. As part of County Government, MCPL does not collect personal information other than for the purpose of providing programs or services.
Registration will close at 1 pm on Saturday, March 5th. The Zoom link to participate in the program will be sent to registrants 24 hours prior to the event and again 2 hours before the program starts.
Participants must be signed into Zoom to attend this program via the web. Create a free Zoom account at https://zoom.us/signup
Contemporary Conversations is sponsored by Friends of the Library, Montgomery County (FOLMC).
Take a look at Montgomery County's Climate Action Plan.
By joining this Virtual MCPL program, you agree to abide by our rules of conduct. Library staff has the authority to remove you from this program if we deem your behavior to be inappropriate, to ensure the safety of staff and customers.

Learn about MCPL's Zoom Security Settings
Accommodation Requests
Please place your request for English-language captioning or sign language interpretation at least five days before the library-sponsored program you plan to attend. Contact the Assistant Facilities and Accessibility Program Manager at 240-777-0002 with all other accommodation requests.
MagnetWidget::Event Dashboard