11th World Green Energy Symposium Virtual 4/13
You are invited to join us at this world event. Wharton Club of DC Members invited to this Event. All Current Wharton DC Members Comped.

Partners, Sponsors and Attendees
Be on Forefront of New Information, New Policies, New Launches, New Technologies, Latest Products, Services,& Contracting Opportunities
Meet nation's top echelon of experts on clean energy who participate.
Increase your network and contract opportunities
Open career and contract opportunities in government, industry and academia during and post conference
Be Seen, Be Heard at the WGES a proven premier, value driven, Clean Energy event.

Who Is Invited
Global & National Corporate Officials & Program Directors
Federal, State, Local Government Officials, Policymakers
Agency Program Managers and Contracting Specialists seeking to identify, inform, exchange & outreach with public and private sectors within this field.
Government Agencies, Government Contractors, Global Businesses, Entrepreneurs, Environmental Organizations, Academia those seeking to SHOWCASE & EXHIBIT
Banks, Financial Institutions & Investors
Engineers, Architects, Project Managers & Developers
Manufacturers, R&D and Distributors of new & green energy technologies
Scientists, Professors, University Students, Information Technology Professionals, Researchers & Innovators, Chambers, Consulates, Trade Organizations
Local, National & Global Media

What They Say
"This has been one of the most powerful, informative symposiums I have ever been to..."
"My business partners and I attended and exhibited at the WGES both days, and found the event to be informative, energetic, well-planned and well-attended…."
"We met many people in the renewable energy industry with who we will be in contact to discuss opportunities to work together on sustainable development projects…."
"We very much enjoyed the enthusiastic reception that we found the Symposium received, who seemed eager to learn about the different exhibitors, businesses, and the overall message of the Symposium. We are already looking forward to the next WGES!..."
"The World Green Energy Symposium was a great platform… Not many forums have an all-inclusive of stakeholders from policy makers to the individuals and entities that must spend the financial resources to meet such initiatives."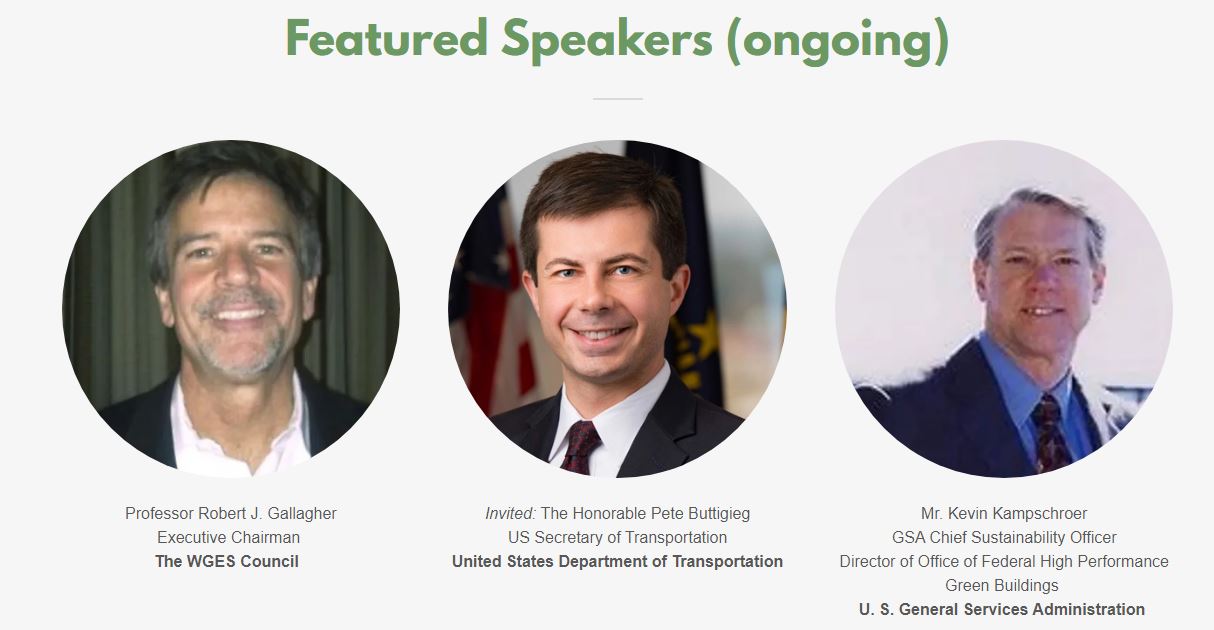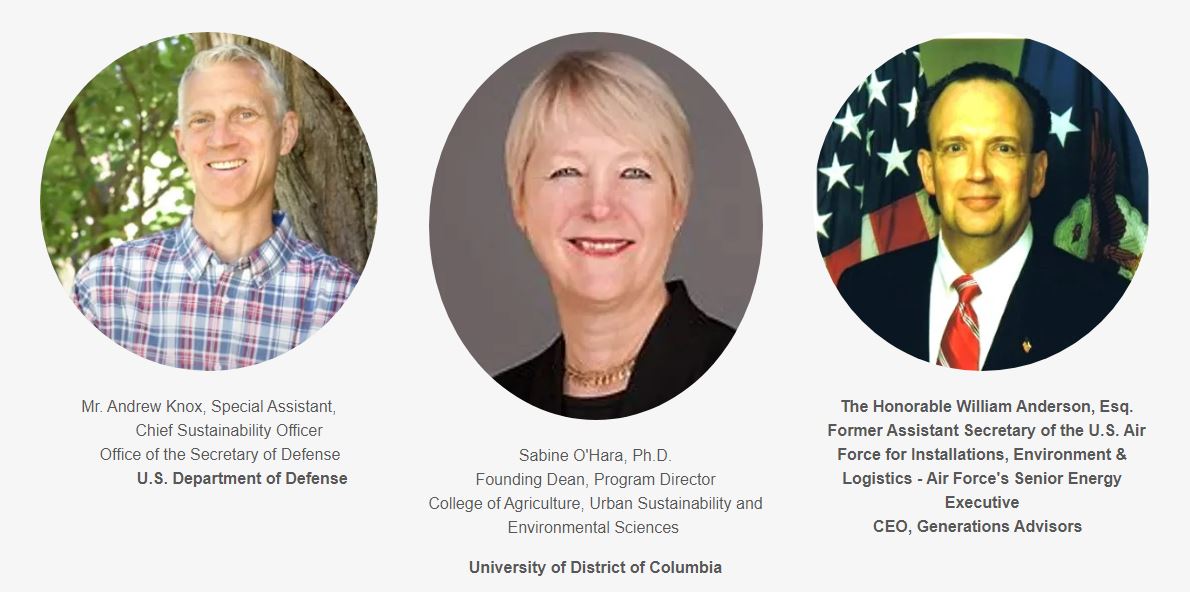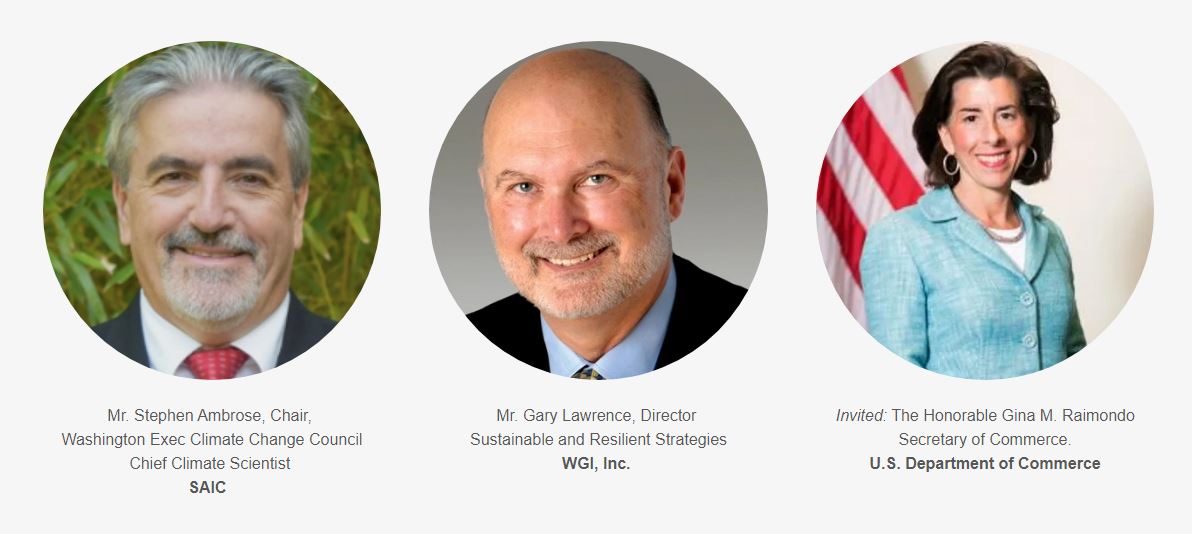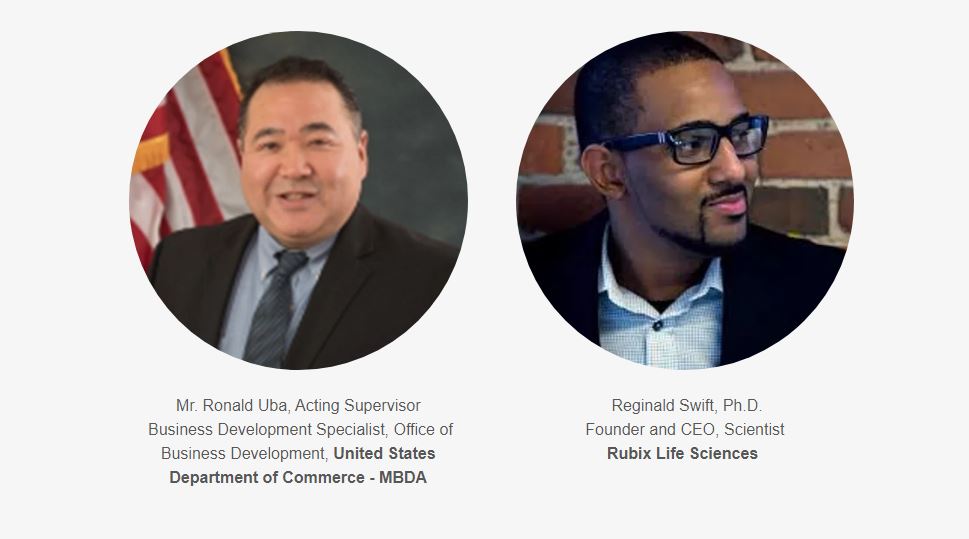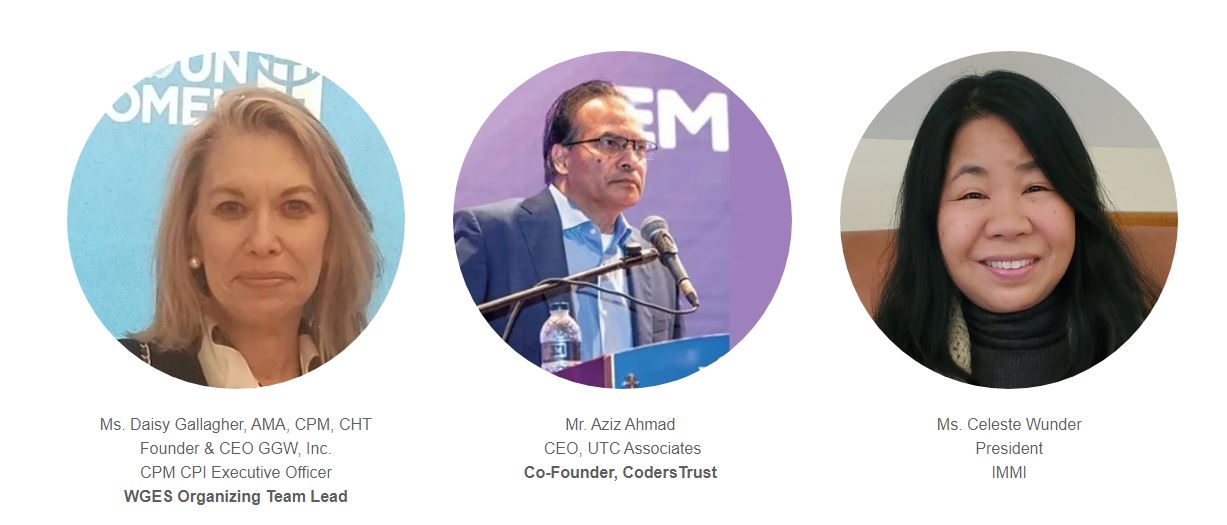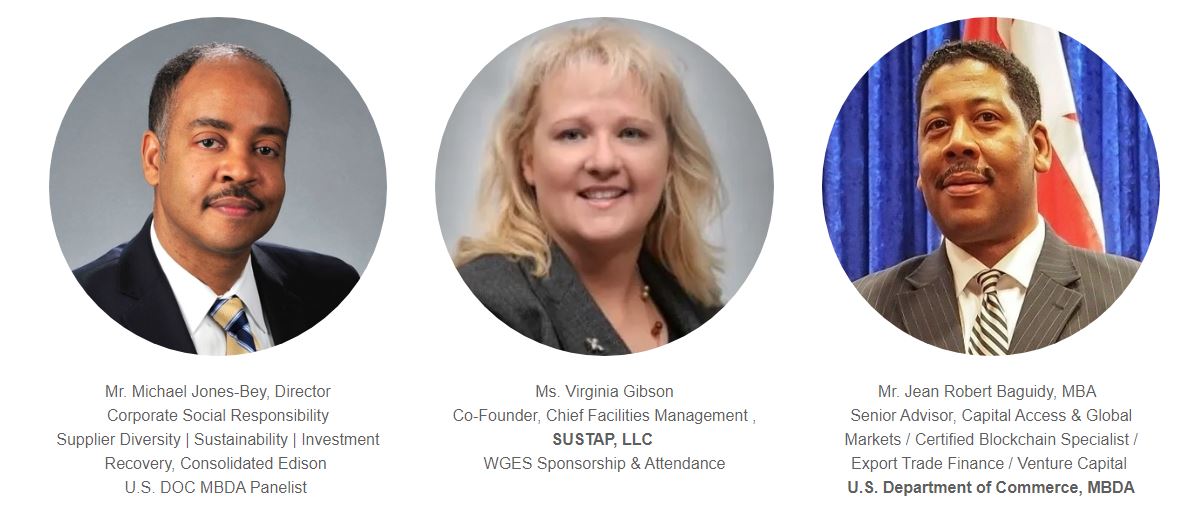 Agenda (ongoing)
World Green Energy Symposium: APRIL 13,2022 – Online
All Times are EDT
9:00 AM
Log In
9:15 AM
Mr. George Roberts
Master of Ceremonies
Opening Remarks
Top Experts and Officials serve as Keynote Speakers & Guest Lecturers
9:30 AM
Lecturer Mr. Kevin Kampschroer: New Barriers that Face Building Energy Conservation and Consumption
To invest in energy efficiency is often described as being a "win-win": by reducing the amount of energy used, efficiency measures can reduce energy consumption (and, consequently, impacts of energy use) and save customers money. Examine renewable energy and energy-efficient technologies used in building applications and assessing their emissions reduction potential.
· Identify advanced materials and devices that are used in renewable energy systems
· Analyze and predict trends in the most likely applications
· Pinpoint new materials and devices that are likely to be introduced into renewable energy systems in the next five years and their expected market impacts
9:50 AM
Lecturer Mr. Andrew Knox, 24/7 Carbon-Free Electricity -
Learn from The Pentagon's Office of the U.S. Secretary of Defense, as its Special Assistant Chief Sustainability Officer details U.S. Department of Defense efforts to go to market with procurement action for 24/7 Carbon Free Electricity.
10:05 AM
Lecturer Mr. Stephen Ambrose
Climate Change in Tomorrow's World
· Will science and technology innovation save the planet? Some tools in our toolbox.
· What equity means in terms of climate resilience. Can solutions be applied fairly?
· Is adaptation the only way to reduce climate risk in the future? The Intergovernmental Panel on Climate Change says the "window for action" is closing fast.
10:25 AM
Lecturer Reginald Swift Ph.D.
Health and the Environment
As the planet warms, oceans expand and the sea level rises, floods and droughts become more frequent and intense, and heat waves and hurricanes become more severe. The most vulnerable people—children, the elderly, the poor, and those with underlying health conditions—are at increased risk for health effects from climate change. - Learn from scientists on the key areas of scientific advancements, research and funding to counter the effects on impact of climate change on human health.
10:45 AM
Lecturer Mr. Gary Lawrence
Make Certain to Attain Sustainable Solutions
Choosing to integrate better sustainability, resiliency, and adaptation ( SRA) in infrastructure planning is a great way to reduce your carbon footprint. This session will explore why it is also important not to just seek an "either/or" solution, especially now when the current need is so severe it needs to be "all/and."
11:05 Break
11:05 AM
Lecturer The Honorable William Anderson
Transportation
- Discuss particular challenges of various transportation modalities that precludes a "one size fits all" solution for the segment - Gain insights into clean power pathways by transportation subsector that maximize effectiveness and environmental sustainability while minimizing unintended consequences
11:25 PM
Lecturer Mr. Aziz Ahmad
Maximizing Cyber Security
The importance of securing the grid is as vital as ever, as digital technology have been embedded directly and indirectly into physical attributes. This session will cover the trends and challenges that are shaping the security needs of the power grid, and prevention of cascading event that lead to blackouts, public health, and safety issues as well as economic impact. The focus will be on lessons learned from previous events, framework understandings, assess and implement measures for securing the power grid, while providing real time interactive support for end consumers. We will touch on C2M2, cyber security capability maturity model, smart grid trends, and public notification mechanisms.
11:45 AM
WGES 2022 NOVA Award Announcements
Lunch Break 12:10 lunch break
12:40 PM - 2:20 PM
U. S. Federal Government Procurement , Supplier Diversity Sustainable Opportunities & Case Studies Session - Moderator Mr. Ron Uba
Discussions on procurement, forecasting and financing opportunities. In this session you will hear different discussions from federal government agency representatives on forecast and procurement in sustainability, supplier diversity procurement opportunities highlighted by private sector, and financing opportunities detailed by minority business development authority as well as actual case studies from suppliers who benefitted from the opportunities.
The following sessions are moderated by Mr. Ron Uba, Acting Supervisor business Development Specialist, Office of business Development United States Department of Commerce, MBDA
12:45 PM
Lecturer Mr. Michael Jones Bey
Powering the Grid & Subcontracting Sustainable Products
The importance of securing the grid is as vital as ever. Address the trends and challenges that are shaping the security needs of the grid and prevent cascading events that lead to blackouts, public health and safety issues and economic impact.
Discuss Procurement Opportunities for Sustainable Businesses as Subcontractors or Vendors
U.S. Federal Government Agency Panel, Ron Uba, Moderator
1:00 PM
Lecturer Ms. Mary Rogers
U. S. Department of Energy
Brookhaven National Labs
Discuss sustainable procurement opportunities
1:15 PM
Lecturer Mr. Larry Wells
U. S. Environmental Protection Agency (EPA)
Discuss procurement & forecast opportunities
1:30 PM
U.S. Department of Transportation
Discuss procurement & forecast opportunity
1:45 PM
Lecturer Ms. Michelle Picard (invited), Siemens
Discuss supplier diversity opportunities in sustainable energy and transportation projects.
2:00 PM
Moderated by Mr. J. R. Baguidy, MBDA
Panelist: Mr. Leo Lobato Kelly
Navigate Available Financial Access for Energy with a Vertical Farming Case Study as Example
Learn about new financing and global growth opportunities from federal government agencies. - Discuss actual case study as example of resources to spotlight trends and opportunities within the U.S government
Federal Government Session Concludes
2:20 - Break
2:30 PM
University of the District of Columbia - CAUSES
Lecturer Sabine O'Hara Ph.D., Founding Dean
Make Certain to Attain Sustainable URBAN Solutions
Choosing sustainable resources are a great way to reduce your carbon footprint and urban communities more sustainable.
· Gain consensus on a sustainable practices that are backed by educational programs, renewable sources and research.
3:00 PM
Moderated by Ms. Virginia Gibson,
Panelists Ms. Celeste Wunder, Mr. John Dresty
Establish an Achievable Clean Water Solution
· Understand new energy efficiency practices in water and wastewater plants
· Refine the symbiotic relationship between clean water and on-site clean energy production
- Learn about new technologies, requirements and funding opportunities for solutions.
3:30 PM
Angel Investors Session - Hear from the officers of an angel investment forum which presents early stage companies in the US and the world to leading investors, who are looking to make money from investment in such companies.
What Investors Expect From You Before Investing In Your Company presented by Mr. Dan Loague
How You Can Invest In Private Companies And Become An Angel Investor presented by Mr. Randall Reade
4:00 PM
Innovative Sustainable Technologies & Solutions Featured
4:30 PM Symposium Concludes
When:
9:00AM - 4:30PM Wed 13 Apr 2022, Eastern timezone

Virtual Event Instructions:
Your confirming email will contain the URL where you can register for program access.