From Newsrooms to Boardrooms:The Mental Health Revolution Arrives 9/30
Just over a week from World Mental Health Day, the National Press Club and Project Healthy Minds partner to discuss mental health. Wharton Club members & guests are invited!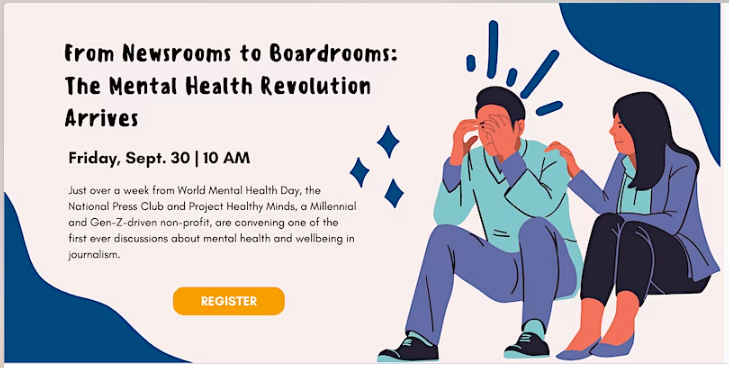 Just over a week from World Mental Health Day (October 10), the National Press Club and Project Healthy Minds, a Millennial and Gen-Z-driven non-profit, are convening one of the first ever discussions about mental health and wellbeing in journalism. Reporters face a barrage of challenging subjects day in and day out, including some that hit at the very core of their own identity. Despite these enormous challenges, it can feel as if the public expects reporters to tell the story regardless of the impact it will have on their own mental health. Journalists in the newsroom are joining a wider movement of employees in workplaces across the country who are demanding their leaders pay greater attention to their mental health and offer better solutions for support.
Join us for one or both of these informative sessions.
10 AM - 10:45 AM
Newsroom Fatigue: Navigating The 24/7 News Cycle
As the world continues to grapple with a seemingly endless series of crises – from the pandemic to racial injustices to mass shootings to geopolitical and societal unrest – journalists have found themselves on the frontlines of an increasingly unstable and dangerous world while covering the news, often to the detriment of their own mental wellbeing. Rarely does the story of the toll news takes on journalists see the light of day. This panel will feature a candid discussion with reporters who have witnessed traumatic events with their own eyes while trying to maintain an objective focus day after day in the relentless 24/7 news cycle.
11 AM - 11:45 AM
Mental Health as The Next Big Issue for Bureau Chiefs, CEOs, CHROs, Boards, and Investors
Burnout. The Great Resignation. The new world of work. A pervasive mental health crisis.
Four years after many companies began declaring a "purpose revolution" to prioritize all stakeholders, not just shareholders, there is a movement afoot across Corporate America as more leaders begin to embrace expectations from employees related to mental health. This shift isn't merely about companies adding one incremental new benefit like a meditation subscription – it requires a fundamental and holistic reimagining of how companies approach employee mental health. From newsrooms to boardrooms, this panel will cover what's driving these changes, how companies are responding and what's next.
Panelists will be announced shortly...


Click here to reserve your place for the program