Homecoming Weekend Featuring Arts & Culture at Penn 10/21-23
Please join other Wharton & Penn alumni for the homecoming. Fabulous speakers & events during the event!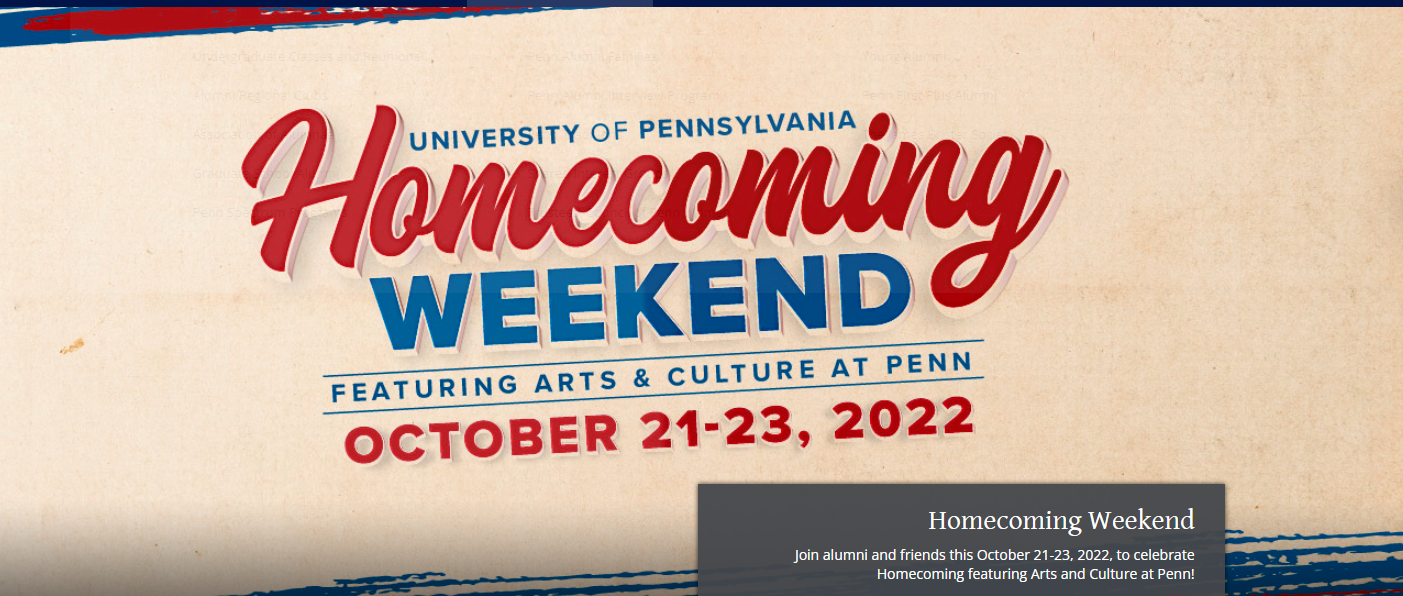 *Please note: Registration will close at 4:00 PM on 10/22. The Homecoming giveaway will only be available to paid registrants who check-in at registration. You will not need a pass for the Blutt Band Slam and Penn Spectrum Mixer events.
Mark your calendar for October 21-23, 2022!

Penn Alumni and our partners across the University invite you back to campus for three days of exciting programming this Homecoming Weekend. Join us as we celebrate Homecoming Weekend featuring Arts and Culture at Penn both virtually and in-person! Registration opened September 1, 2022.
ARTS: Jump on the Gallery Hop for a tour featuring Penn's many world-class art galleries. Browse pottery, paintings, jewelry and more at the Alumni Arts Fair. Cheer your favorite band to super-stardom at the annual Blutt Band Slam. Celebrate milestone anniversaries of Kelly Writers House, the ICA, Platt Student Performing Arts House, and more!
CULTURE: See campus through a different lens on an architectural or sculpture tour. Sit in on a lecture with Penn alumni and faculty, then celebrate Penn's rich diversity and get to know our communities at the Penn Spectrum Mixer.
TRADITION: Celebrate fellow alumni at the 87th Alumni Award of Merit Gala. Join the Penn community on College Green as we celebrate the inauguration of President Liz Magill. Raise a toast to dear old Penn at QuakerFest, then head to Franklin Field to cheer on Penn football as they take on the Yale Bulldogs.
Register Here for Homecoming Weekend - or learn more about the stimulating options!