NEC Webinar: 'Could Stronger Economic Growth Become the Pandemic's Most Unexpected Outcome?' with Martin Fleming, The Productivity Institute & Varicent 2/23
'Could Stronger Economic Growth Become the Pandemic's Most Unexpected Outcome?' Wharton Club members and guests are invited.
Surprisingly, there's good reason to believe underlying conditions are ripe for a growth revolution to follow the global pandemic. We see the seeds of this revolution everywhere as businesses are dramatically increasing their investment in new and emerging technologies, including artificial intelligence. This spending burst seemingly confirms that the Fourth Industrial Revolution is well underway. Workers, especially low-wage workers, seem to hold more power than ever, actively seeking new opportunities, rejecting unfavorable employment conditions, and demanding new, more productive work arrangements. A "Growth and Fairness Agenda" providing the roadmap for robust growth and more equally distributed incomes isn't necessarily simple, but history tells us its underpinnings are clear. Those who remain nostalgic for days gone by will find themselves standing on the sidelines.
Please Note: The link to the webinar will come in the ticket email. If you do not receive a ticket email or the event link by 11am the day of the event.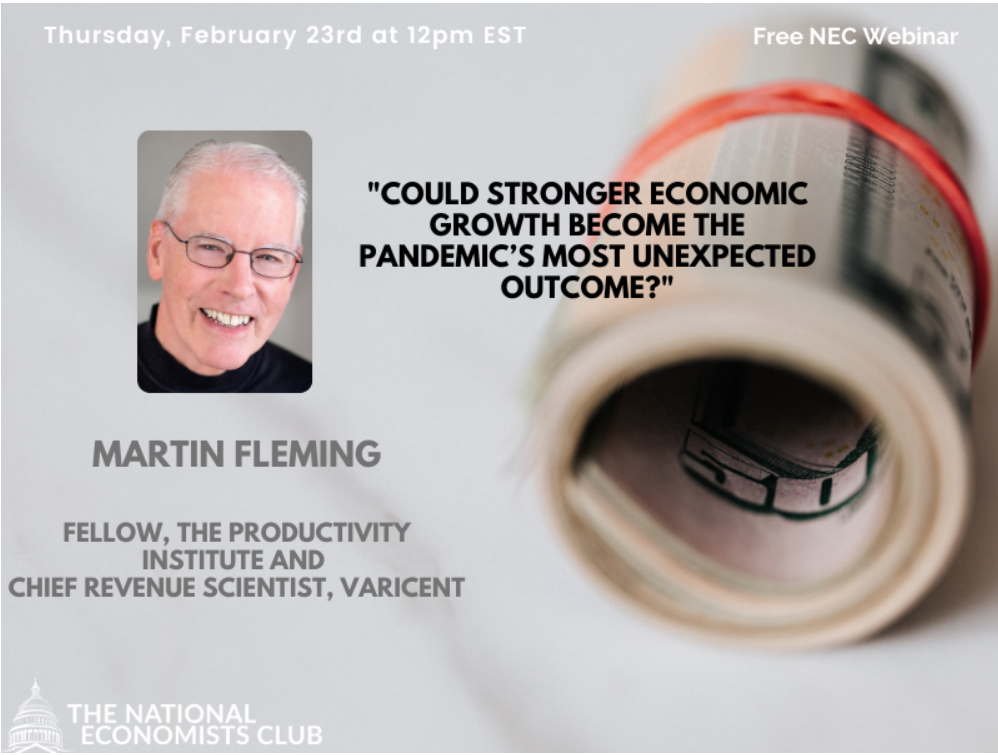 About our speaker:
Martin Fleming is a Fellow of The Productivity Institute, a UK research organization exploring what productivity means for business, workers, and communities, and Chief Revenue Scientist, Varicent, a Toronto-based sales-performance management software provider. He is the author of the recently published book: Breakthrough: A Growth Revolution.
Martin is also a researcher at the MIT–IBM Watson AI Lab and the U.S. Bureau of Economic Analysis and is the former IBM Chief Economist and former IBM Chief Analytics Officer. Previously, within IBM Corporate Strategy, Martin led IBM's Smarter Planet strategy development and execution with a focus on energy, climate change, transportation, water, and Smarter Cities.
Prior to joining IBM, Martin was a principal consultant with Abt Associates, Cambridge, Massachusetts. He was also Vice President, Strategy for Reed-Elsevier, Inc., the Anglo-Dutch information company. Martin began his professional career at the System Dynamics Group, Alfred P. Sloan School of Management, Massachusetts Institute of Technology.
Martin holds a PhD and an MA in Economics from Tufts University and a BS cum laude in Mathematics from University of Massachusetts, Lowell.


Click here to reserve your place for the program
When:
12:00PM - 1:00PM Thu 23 Feb 2023, Eastern timezone

Virtual Event Instructions:
Zoom URL for your own use will be listed in the email you receive after you register.
Look Who's Coming:
Alan Schlaifer
Wharton Club of DC
Alan Schlaifer
... a total of 2 guests.
Note: to opt out from this list please sign in, go to My Account and change your preferences under My RSVPs.
Click here to reserve your seat(s)
for the program