2023 Wharton DC Innovation Summit:
Advancing to a Healthier, Wealthier World for All
To help you adjust and move forward. Keynotes & other sessions to help you make progress.

Click HERE

to register. And

CLICK HERE

soon to visit the Summit's special website and learn the latest about Summit keynotes, other speakers and more news.

Or take a quick look at our Summit video for this year's Summit; an idea of what to expect

To view all speakers confirmed this year (similar quality and diversity to last year,

CLICK HERE.
About the 2023 Summit
With a successful track record of hosting eight previous highly-rated Summits – 8 in-person at locations in the Washington D.C. area and 2020 and 2021 online, the Wharton Club of DC expects to organize the 2023 Wharton DC Innovation Summit in a hybrid format: in-person in Washington, DC and online.
Reflecting the turbulence of recent years from the pandemic, plus ongoing global economic disruption and geopolitical tensions, this year's theme provides historical context and a helpful look ahead to those who want to control their destiny, while benefiting more people: Advancing to a Healthier, Wealthier World for All
Startup and other businesses, governments, nonprofit and society had been grappling with challenges that arose from COVID-19. Now, higher interest rates, economic issues, and the higher challenges of bank loan and other capital availability are creating a "wall of worry." But, innovative and responsive leaders are striving to deal with current challenges and capitalize on opportunities in many areas, including those of the 2023 Summit's General Sessions / Keynotes and 3 breakout tracks
CLICK HERE to visit the Summit's special website and learn the latest about Summit keynotes, other speakers and more news. Schedule: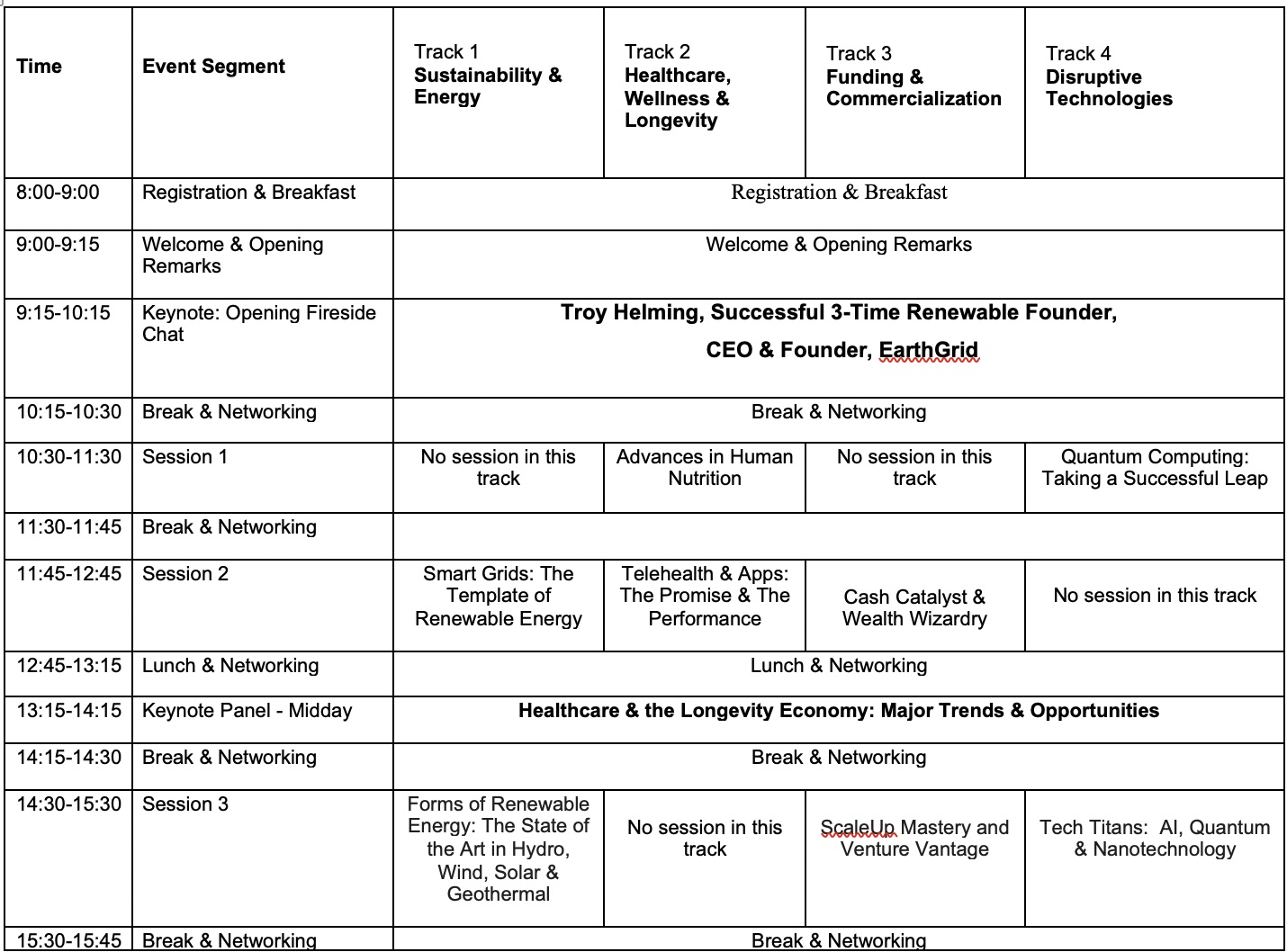 • The 2023 Wharton DC Innovation Summit will explore the impact of these key shifts and challenges, including:
How innovators and entrepreneurs are positioning to take advantage of them

The actions innovators are taking to meet capital, HR, market, and other needs in the face of global economic headwinds

Strategies to meet workforce needs – to hire, retain and train human capital – with increased competition from other organizations at a time of over 9 million vacancies

How innovators are getting private and public funding

What new attributes and tactics are required for successful innovation leadership and enterprise transformation to ride above the tidal wave of local and global challenges, instead of being swept under
Click HERE

to register.

Silver Sponsor

- returning for their third year as a Summit Sponsor - this time a Silver Sponsor - is FCEDA:
Strategic Partners expected to again include a wide array of elite alumni and business groups. We already have these new Strategic Partners, plus one major returning one for their third year - FCEDA (and we would welcome discussing having your nonprofit as a Strategic Partner, too):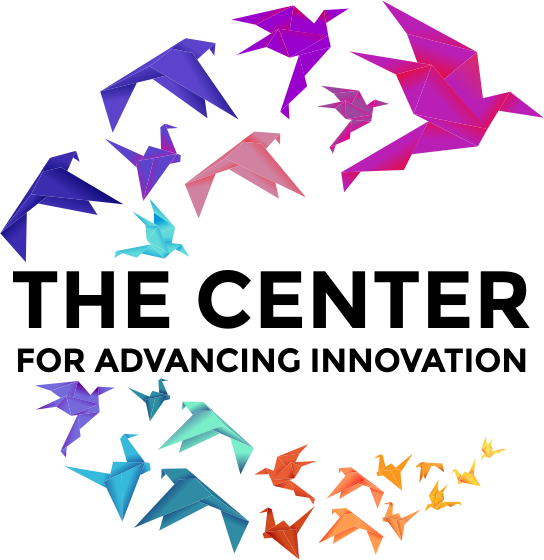 Record of Success: The 2023 Innovation Summit builds upon seven successful past summits, each of which received rave reviews from speakers, attendees and sponsors. Prior Summits cumulatively had over 2,300 attendees representing 400+ companies (from startups to Fortune 500 companies) and other organizations and featured 375+ diverse speakers in over 185 sessions. Click HERE to view the URLs and themes for the past 6 Innovation Summits.
Learn more from this Video about the past Summit:
CLICK HERE!
Typical reviews:

"The Summit is fantastic. I've had a lot of great conversations with individuals here. There are many new perspectives, innovative ideas, and great opportunities to collaborate. We've had numerous informal sessions with much dialogue." – Ruth Ann Hudson, IBM
"What's exciting about the Summit is that we have entrepreneurs and innovators coming together in the Nation's Capital, finding ways entrepreneurs and innovators can help the big problems over the next decade. I'm excited about being here because the talent gathered here can together be part of the solution for our Nation's ills." – Aneesh Chopra, first White House Chief Technology Officer
Helping nonprofits & people adversely affected by Covid or major health. We're going to contribute part of our proceeds to nonprofits we select - we welcome suggestions from all attendees.
Click HERE to register. Early Bird now in effect, through May 22 for in-person attendees.
The earlier you register, the lower your rate.
All rates are for FULL ACCESS pass and include: Your choice of sessions, all meals, networking breaks, the Closing Reception, and the reception, if we have one, at an Embassy on Friday, June 23 - plus 6-month access to session videos.
As spaces are limited, so we are expecting a capacity audience (consistent with DC health regs; all attendees must (1) have been fully vaccinated or show a negative Covid test within 48 hours of the start of the Summit; (2) not showing symptoms of possible Covid upon arrival at the Summit). All sales are final.
Members: Wharton Club & Strategic Partner Members: Early Bird - Just 175/person for the whole Summit (must name Partner in "Special Instructions" when you register)
Veterans, Military, Full-Time Students, Nonprofit/Govt. Full-Time Employee (Super Early Bird:

Just 175/person for the whole Summit (must name your specific category and organization in "Special Instructions" when you register).

Public: Just 325/person for all session in-person access, including reception.

EVERYONE: Consider, please, if you will, making a contribution, to the Wharton Club of DC, to help support this Summit and other programs. You can choose a tax-deductible contribution of $100 to $2,500 and select which of several innovators you'd like on an Innovator certificate customized for you - and suitable for framing: Franklin, Edison, Curie, Carver, or Tesla. Like most alumni groups, we get no financial support from any university. Thank you.

When:
8:00AM - 8:00PM Thu 22 Jun 2023, Eastern timezone

Where:
Conference Center
1812 North Moore Suite 2200
Arlington, VA 22209 USA
[ Get Directions ]
Look Who's Coming:
Alan Schlaifer, Chairman
Wharton DC Innovation Summit
John Bittman, Tech Partnerships
NIST
Benjamin Holmes, CEO
Nanochon
Valerie Fremont, CSO/VP Mkt Dev
Quality Biological
Katherine Hill Ritchie, Sr.Dir.VentureFunds
TEDCO
Tien Wong, Chairman & CEO
Opus8
Jeff Krasney
DBM Global
Jason Stern, CEO
EHD
Ruwan Salgado, CEO
Strat8gy Intl.
Justine Schaffner, CEO
Campus Consulting
Chuck Schilke, Dir. Emeritus
Johns Hopkins University
Rosemarie Truman, CEO
CAI/Center for Adv. Innovation
Jane Stieber, CEO
JS Services
Robert Sherretta, CEO
International Investor, LLC
Emily Smith
Cushman & Wakefield
Hugo Jimenez
Performance Advisory Group
Guc Ozenci, Managing Dir, DC
Founder Institute
Thea Maisuradze, Chief Mktg.
Officer, Inflectra Crop.
Danielle Woodring, Dir. Leg/Reg Affairs
Center for Critical Minerals Strategy, SAFE
Jennifer Williamson, MBA/CAE; VP
Workforce, NoVa Chamber Foundation
William Tobin
Global Energy Center, The Atlantic Council
Pete Thurlow, Esq., Chair
IP Medical Device Group at Polsinelli
Dr. Aenor Sawyer, Dir., UC Space
Health, University of California; Director, Skeletal Health
Sara Polon, Co-Founder & CEO
Soupergirl
Brian Park, Managing Partner
SparkLabs Cyber+Blockchain
Ajay K. Gupta, CEO
HSR.health
Todd Hames
The Hames Group
Mike Gold, Chief Growth
Officer, Redwire Corp.
Natalie Foley, Director
Advisory Services, Opportunity@Work
Yusuf Henriques, CEO
IndyGeneUS AI / Global
Brendon Colburn, Tech. Architect
Microsoft Technology Center
Michael Batt, VP, Talent
Fairfax County Economic Development Authority (FCEDA)
Col. Matt Clark, Jt. Proj. Mgr.
CBRN Medical
Dr. Cori Lathan, PhD
Inventor, Author, Bd. Director
Brian Barnett, CEO
The Barnett Co.
Liza Freeman
Sriya Pothapragada
CAI
Zack Molnar
SafeRx/Caring Closures
Jay Banerjee, Co-Founder/Pres.
ImmersiveTouch
Michael Nathans, CEO
WhisperSom
Jarred Young, Keystone Lecturer
Univ. of Md.
Ellis Rosenberg, Man. Dir.
FiscalNote ESG Solutions
Adam Sandman, Director
Inflectra Corp.
Pete Erickson, CEO
Modev
David Garnett, Pres. & Founder
iAM Solutions, LLC
Sun Park, Manager
Accenture
Spencer Wood, Mgr., Natl. Bus.
Investment, FCEDA
John Gustavo Blair, Asst. Dir., Natl.
Bus. Inv., FCEDA
Alexander Sanchez, Mgr., Natl.
Bus. Inv., FCEDA
David Kelley, Director
National Bus. Inv., FCEDA
Anne Rosenblum, Mgr., Natl Bus.
Investment, FCEDA
Christy Youk, Mgr.
Intl. Business Investment, FCEDA
Alex Drahos
CAI
Terry Moraska, Chief Innov. Officer
Pan Pacific Finance Group
Sandeep Dudhwewala, VP
Utility of the Future, National Grid
Jon Schlaifer, Esq.
Patent Attorney
Karen G. Wayland, PhD, CEO
The Gridwise Alliance, Inc.
Daniel Ryan, Principal
Alikos Wealth Management
Tisha Jepson, CEO & Co-Founder
True Bearing Diagnostics
Gil Price, MD, Board Member
CAI / Center for Advancing Innovation
Suthra Taychakhoonavudh, CEO
Baiya Phytopharm
Julia Wood, Partner
Rock Creek Energy Group
Troy Helming, Founder & CEO
EarthGrid PBC
Katie Jereza, VP, Corp. Affairs
Electric Power Res. Inst. (EPRI)
Avi Halpert, VP, Corp.Real Estate
United Therapeutics
Brock Schaffner
Univ. of Chicago
Alison O'Neil
Dr. Hans Mumm
Victory Systems
David Morey, CEO
DMG Global
William Tobin, Globa Energy Center
The Atlantic Council
Jean-Marc Palmier
Elizabeth Nolte
Rob Kimmer
OPAD Airway Inc.
Sheetal Thakkar
Russell Reynolds
Joe Paul, CEO
ByteBack
Wynisha Witt, Site Dir., Baltimore
ByteBack
Cara Waddell, Dev. Associate
ByteBack
Mikael LaRoche, Head-Brand, Mktg, Com
ByteBack
Dr. Sharon Morgenthaler, Head of Programs
ByteBack
Kim Thornburg, Head of Development
ByteBack
Braxton Canady, Sr. Data Analyst
ByteBack
Vladimir Dergachev
Andrew Fraser
Rotary
M. James Faison
Faison Law Group LLC
Judy Kosovich
Maria Elena Carrion
Multicultural Capital LLC
Ilana Esterrich
Planned Parenthood Federation of America
Walter Juraszek
W & L Global Enterprises
Guadelupe Juraszek
W & L Global Enterprises
Marya Pickering
The Kenific Group, Inc.
Marya Pickering
The Kenific Group, Inc.
Sean Denniston
OUSDC
Bob Carey
Empire-Capitol Strategies
Archana Reddy
Lumanity
Mark Baldino
FireBot Suppression
Mark Standard
UBS
Natalia Jasinski
John Gustavo Blair
Fairfax County Economic Development Authority
Ryan Alcorn
GrantExec
Igor Eberstein
See on Corporation
Ali Thaver
Sutton Capital
Jennifer Simpson
Suthira Taychakhoonavudh
Baiyaphytopharm
Nikhil Bhambi
Green Community Consulting
Eliot Shatzman
Wells Fargo Advisors
Jean-Francois Orsini
AlexTest LLC
Ginger Greenfield
Andy Chalonec
Cost Caddies
Kenneth Scott
Beech Companies
Hope Heller
Adam Sandman
Emile Hoffman, CEO
Hoffinsys
Emile Hoffman, CEO
Hoffinsys
Jennifer Weiss
Sue Carr
Brooks Evans
Oxford
Hank Dearden
ForestPlanet, Inc.
Rajiv Mehta
Purple Sage Ventures
Jennifer Simpson
David Finkelstein
InstantCard
Janthapat Saichumin
Thailand Board of Investment, New York Office
Janthapat Saichumin
Nanthapol Sudbanthad
Thailand Board of Investment
Sally Sappenfield
Hasumi International Research Foundation
Derek Woodward
CareDx
Kevin Kelleher
CareDx
Jarrod Borkat
CareDx
Sally Sappenfield
Michael McDonald, Dr. P.H.
OVIAR Global Resilience Systems, Inc.
Jay Banerjee
ImmersiveTouch
Ike Syed
KiwiTech
Ilyse Veron
Veron Ventures
Andrew Sachs
Nobel Learning PBC
Majed Tomeh
MGT Resources, Inc.
Ram Konduru
Primesoft Inc
Claire de Weerdt
deWeerdt Consulting Inc
Piyush Jain
Simpalm
Doug Carney
Bertram Lloyd
Weichert Commercial Realty
Michael Nathans
Derek Woodward
CareDx
... a total of 177 guests.
Note: to opt out from this list please sign in, go to My Account and change your preferences under My RSVPs.