Former NPR reporter Sean Carberry plans to recount his years as foreign correspondent at Book Rap, August 17
Former NPR reporter and veteran foreign correspondent Sean Carberry plans to offer his perspective on life in several war zones. Wharton Club members & guests are invited!
Former NPR repor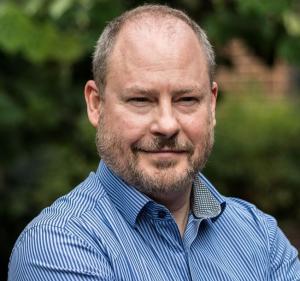 ter and veteran foreign correspondent Sean Carberry will offer his unique perspective on life in several war zones when he discusses his new book, "Passport Stamps: Searching the World for a War to Call Home," at a National Press Club Headliners book event on Thursday, Aug. 17, at 6:30 p.m.
From 2007 through 2014, Carberry traveled the world reporting from war zones and fragile states for public radio. He spent time in Iraq, Syria, Yemen, Libya, Congo, Colombia, Kosovo, and Sudan and other rough neighborhoods before settling down in Afghanistan in 2012. There, he served as NPR's Kabul correspondent until the end of 2014 when NPR closed the bureau. He is currently managing editor of National Defense Magazine.
"Passport Stamps" is a candid, darkly comic, and emotionally naked tale of a man who—driven by grief, loss, and the desire to find his "tribe"—seeks solace in the world's most dangerous places and his pursuit to join the ranks of combat-tested war correspondents. The learning curve of reporting in hostile environments is steep, sometimes comical, and sometimes nearly fatal. When the assignment ends, Carberry is left to confront the mental and emotional impact of the years of danger, death, and destruction.
The program will include a question-and-answer session with Carberry. To submit a question in advance for the speaker, put CARBERRY in the subject line and email to headliners@press.org.
Tickets cost $5 for members of the National Press Club and $10 for the general public. Books will be available for purchase and signing at the event.
Wharton Club Members:
Lifetime & President's Club Members: You may purchase tickets for yourself and up to 3 guests:
Other Wharton Club members: May purchase ticket for yourself and one guest
All tickets cost $45/person for you and your guests. They include a full luncheon (inclduing tax and tip) and the program. We hope to have one or mor Wharton Club tables. Tickets must be paid for at time of purchase.