October 18th Washington Magic Live Show
Every show is new . . . and every show is different . . . And this night we'll feature pieces in honor of our magical "MENTORS". Wharton Club members & guests are invited.
With over twenty consecutive live s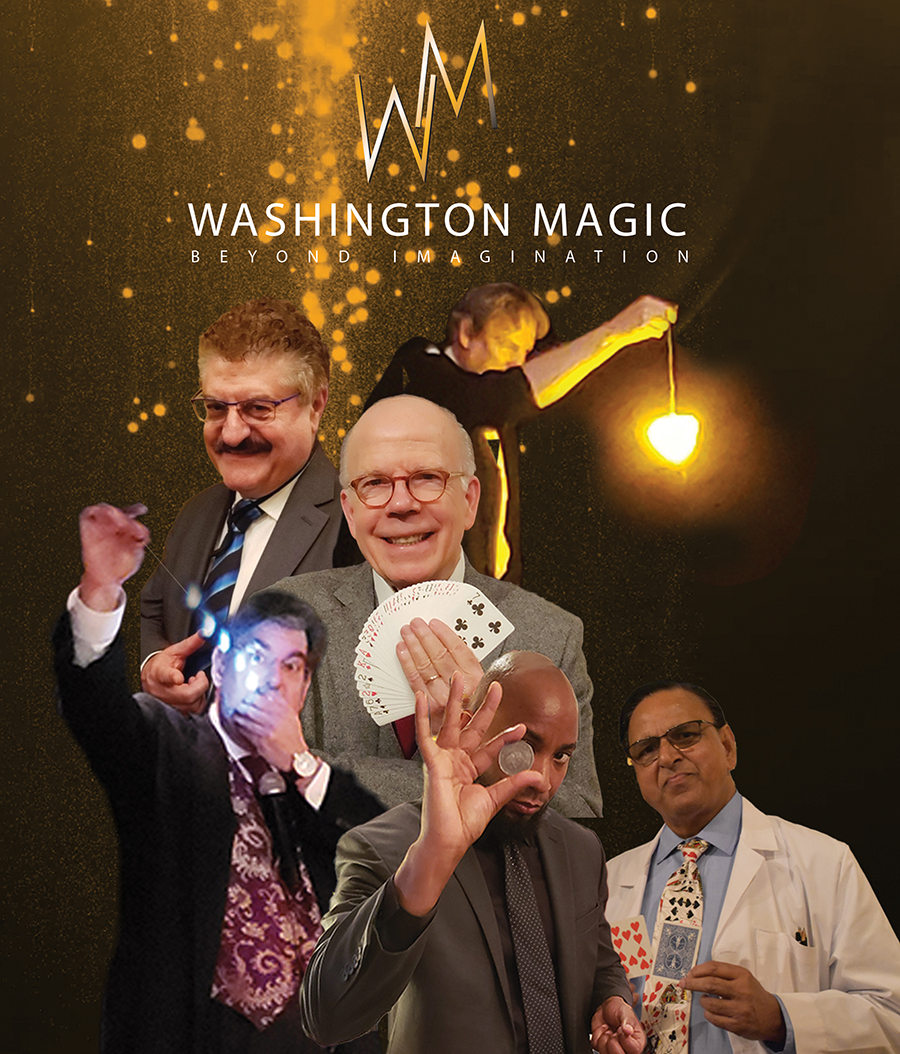 ell-outs, and a string of 5-star reviews, Washington Magic launches its 2023 season: David Morey and Dr. Larry Hass will be appearing on January 28th at Poe's Magic Theater at the historic Lord Baltimore Hotel for a special public show and event co-sponsored by the Magic and Mystery School in Las Vegas, the world's number-one magic school.
On February 2, Washington Magic hosts a sold-out private corporate event… and, on February 4th, join us for our next public show. Experience the Arts Club of Washington's 220-year-old home as it connects with some of the world's best magicians — and see the entire mansion becomes an experience . . . private close-up rooms and strolling magic to share the mysteries right before your eyes, and then our full stage performance.
Join us for drinks, snacks, hors d'oeuvres, elegant closeup and strolling magic, a full stage show, and the only 5-star reviewed magic performance in the Washington area. And see this feature on us in the Washington Post
Join us for impossible mind reading, mystery, comedy, and magic right before your eyes!
And stay tuned for more Washington Magic events in 2023 …
Guests may appear on photos or videos from the evening.
JOIN US TO SEE THE ENTIRE MANSION BECOMES AN EXPERIENCE . . . . PRIVATE CLOSE-UP ROOMS TO SHARE MAGIC RIGHT BEFORE YOUR EYES. AND THEN OUR FULL STAGE PERFORMANCE—WITH SOME OF THE WORLD'S TOP MAGICIANS!

JOHN MCLAUGHLIN: Former acting director of the CIA and co-author of Amazon's #1 New Release, Creating Business Magic, will take you behind the scenes of magic's classics and teach you how to think magically.
SAVINO RECINE: Restauranteur and entrepreneur, will show you his unique, on-the-edge kind of magic—and read minds and ignite laugher and again prove we can all have fun with the impossible.
RAHAAN JACKSON: Will show you why Washington is talking about this performer's very special magic—from close-up to stage, Rahaan will take you to a very magical place.
CHRIS MCCAULEY: Has owned his own Magic School for twenty years, teaching the art of magic at schools and camps across the Washington, DC area. Chris performs his special variety show at comedy clubs, family events, festivals, conventions—well, everywhere!
DR. KRISHAN MATHUR: A top Washington-area physician turned conjurer, Krishan the Magician travels the world bringing magic to families, children, and now to you.
ERIC HENNING: Will display some great and brand-new classics of magic—and transform our stage with the kind of magic he's performed for the President of the United States.
DAVID MOREY: Best-selling author, strategist, speaker, and magician. David has performed at both Official Inaugural Balls for the 44th President of the United States and is co-author of Creating Business Magic . . .

Join us for drinks, hors d'oeuvres and snacks, close-up and stage magic, and the only 5-star reviewed magic performance in the Washington area. See this feature on us in the Washington Post and read about the magic that has been featured in DC Theater Scene, the Washingtonian, Washington Business Journal, Washington Weekend, and other publications.

"A solid, sparking argument that imagination empowers the real magician inside us all."

--David Copperfield, Magic Legend

Again, drinks, hors d'oeuvres and snacks, close-up magic, full stage performance—all for a special and discounted $68.

In times like these, we need a little more magic. So . . . come find your own real magician! Tickets will sell quickly . . . and will sell out. Please join us now at:

www.washingtonmagic.com