SBDC: The Cost Of Burnout 11/16
Burnout affects your people and your bottom line with high turnover and low productivity. Wharton Club members & guests are invited!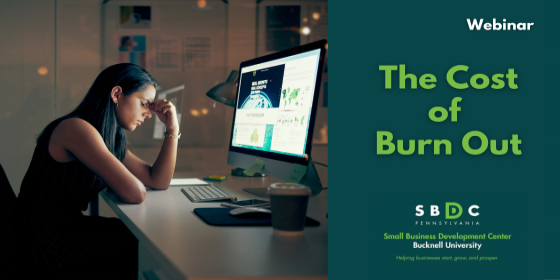 Date: 11/16/2023
Time: 12:00 PM - 1:00 PM (EST)
Status: Open - 48 places remaining
Registration Deadline: 11/16/2023 10:00 AM (EST)
Fee: No Fee

Program Format: Online Meeting (Live)
Training Topics: Human Resources/Managing Employees
Description:
Burnout affects your people and your bottom line with high turnover and low productivity. According to Gallup, burnout is costing employers $3,400 out of every $10,000 in salary, because they are disengaged in their work. By addressing mental health in the workplace, you can increase your employees' health, performance, productivity, and attendance, all contributing positively to your financial outcome.
Topics covered will include:
Understanding Burnout and the Warning Signs
Discussing the Consequences and Financial Impact
Examining the Causes and Contributing Factors
Offering Prevention and Mitigation Strategies
Key Takeaways
This webinar is sponsored by the Bucknell University SBDC and has been approved for 1.0 SHRM PDC.
Our presenter is: Trisha Shearer, Vice President Human Resources Compliance and Consulting at Webber Advisors
Registration Policies:
Registration and Fees: Payment of seminar fees may be made by check or money order. Payment must be received to guarantee your space in an event.
Refund Policy: If you wish to request a refund, please contact the conference organizer listed above to discuss. You may also elect to send a substitute in your place. If the event is cancelled, all fees will be returned.
Special Accommodations: In accordance with the American Disabilities Act and state law, you may request accommodations due to a disability by contacting the event organizer listed above. Persons with limited English proficiency may also request special accommodations. Advance notice may be necessary for some accommodations. Registration must be paid prior to accommodation requests.